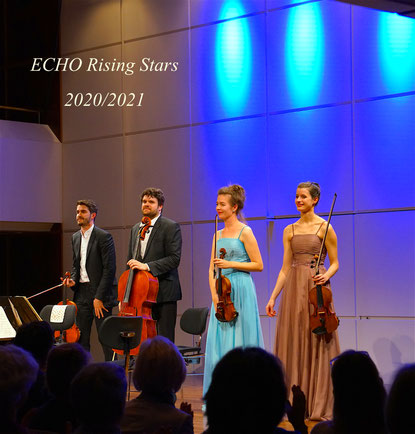 International recognition for the Frankfurt ensemble
The European Concert Hall Organisation (ECHO) has selected the Aris Quartett as Rising Stars for the 2020/2021 concert season.
Having already been named BBC New Generation Artists, the Rising Stars distinction represents a further international honor for their remarkable artistic achievements. The recommendation for selecting the Aris Quartet as Rising Stars came from the Elbphilharmonie Hamburg and the Konzerthaus Dortmund.
The European Concert Hall Organisation (ECHO) brings together many of Europe's major concert halls into an active network, one of whose tasks is to support young musicians at the international elite level. The selected artists are given the opportunity to perform in Europe's leading concert halls.
The ECHO Rising Stars program has existed since 1995 and has helped launch the international careers of many stars over the years. "The focus of the program is on musical excellence; the artists presented as part of the program are the best in their fields and are hand-picked by the Artistic Directors of our member concert halls," says Andrew Manning, the Secretary General of the European Concert Hall Organisation. During their tours, the Rising Stars are involved in numerous cultural projects in the cities and regions of the ECHO network. 
---